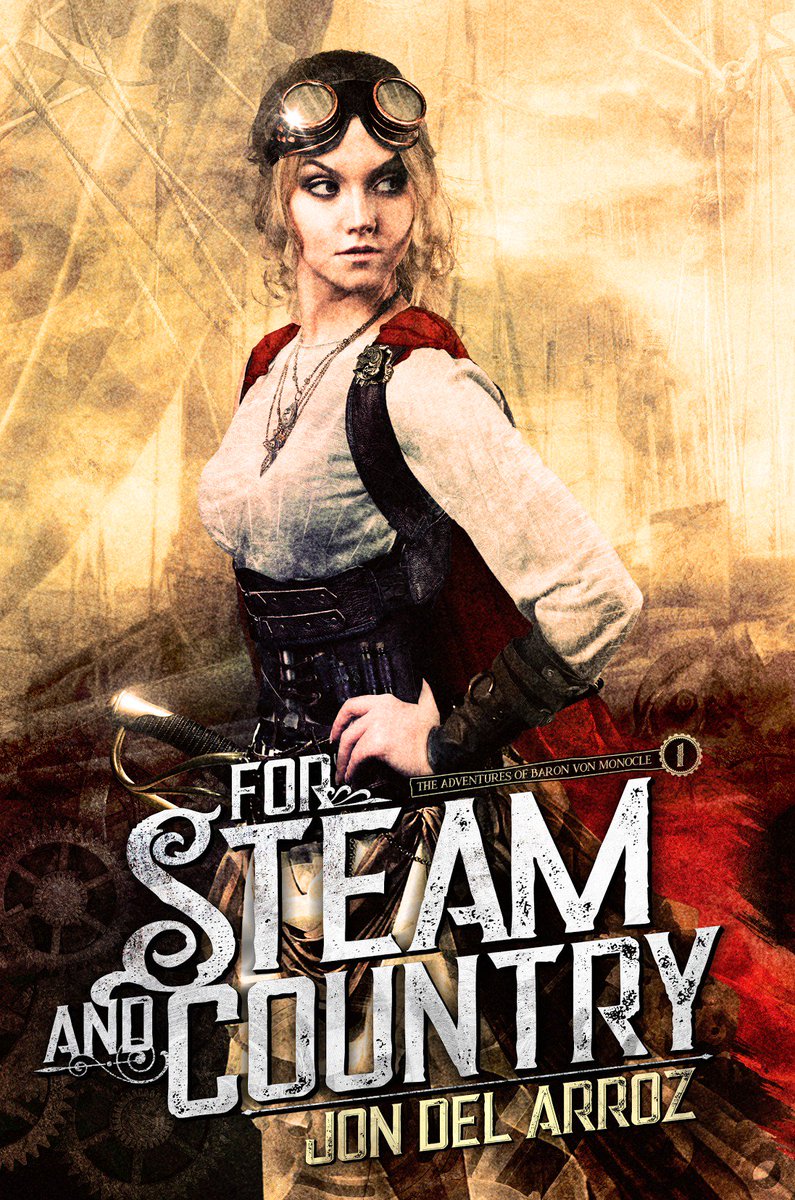 For Steam and Country,
by Jon del Arroz… yeah.
This one is going to be a little strange.
But it's steam punk. Aren't they all?
Not to mention it's in a field that might only have two other competitors — The Aeronaught's Windlass, by Jim Butcher, and the web comic Agatha Heterodyne, Girl Genius.
This is, of course, if you don't count early games of Final Fantasy.
I have just listed all of my credits in the field of steampunk. I generally find it a quirky little genre, but it takes a lot to get me into it.
Her father's been pronounced dead. Destructive earthquakes ravage the countryside. An invading army looms over the horizon. And Zaira's day is just getting started…

Abandoned at an early age, Zaira von Monocle found life as the daughter of a great adventurer to be filled with hard work and difficulty. She quickly learned to rely on only herself. But when a messenger brought news that her father was dead and that she was the heir to his airship, her world turned upside down.

Zaira soon finds herself trapped in the midst of a war between her home country of Rislandia and the cruel Wyranth Empire, whose soldiers are acting peculiarly—almost inhuman. With the enemy army advancing, her newfound ship's crew may be the only ones who can save the kingdom.

For Steam and Country is the first book in the Adventures of Baron Von Monocle series by top-10 Amazon best selling space opera author, Jon Del Arroz.
So, a farm girl is taken from her home in order to fight an evil empire that leveled her village, leaving nothing for her to go back to ….
And our heroine's father leaves a memoir behind that states he prefers to sword, as it is "a more elegant weapon" …. for a more civilized age, I'm sure.
Nah, that doesn't sound familiar at all, does it? Heh.
Granted, our heroine gets a much cooler inheritance from her MIA dad. No. She gets an airship, a crew, and a SpecOps command team. Cool, huh?
There are fun bits of business all over the place. There is a red shirt engineer who is very cautious about his estimates (no, he doesn't come with a Scottish accent). There are airships and a knight named Cid, and a military philosophy named Jasyn Warhpeg (subtle) … so Jon occasionally got cute at times. But at the end of the day, it doesn't lean too heavy on the Steampunk. Yes, there are airships and cars, but For Steam and Country doesn't go as over the top as some steampunk, like Girl Genius. And for all the jokes I've made, any similarities to Star Wars end about 30% into the book. But it's enough to warrant discussions about hero journeys, that sort of thing.
At the end of the day, For Steam and Country is a very traditional story, and quite comfortable in some of what it delivers. Which is a good thing. While I hate to disagree with the man who signs my royalty checks, there is something about royalty reclaiming inheritances that speaks to us — just ask Aragorn in Lord of the Rings. Otherwise, it wouldn't be a trope to start with.
It's fun. For Steam and Country has a lot of good solid characters, with back stories and a full history. And the last third of the book really does take off into strange new worlds, so if you think the story is paint by numbers … don't bet on it. Seriously, don't.
Right now, the only weaknesses to the book are the ones that comes with the start of any series — if For Steam and Country didn't cover it, it'll probably show up in book 2. There are some characters that need more background and some sense of what they're thinking. For example, the Iron Emperor, an adversary whom we briefly meet in the story, is interesting, in part because he has very little screen time, and we don't get a great sense of what's going on in his head — especially when you get to revelations about what's Really Going On Here.  I suspect that the sequel to For Steam and Country will have a lot of fallout from book one, and I will be very interested to see how that works.
Let's call this a strong 4/5 stars. It's well above average, with likable protagonists, a fun romp, with enough variations on traditional story telling tropes so that you can't see what's going to happen next. And no, you won't see it coming. Go buy it, you won't regret it.